DAILY GK UPDATED 13-12-2015
NGT BANS REGISTRATION OF NEW DIESEL-RUN VEHICLES IN DELHI
DAILY GK UPDATED 13-12-2015
National Green Tribunal (NGT) has ordered ban on registration of new diesel-run vehicles in Delhi to curb the growing menace of air pollution in the capital city. This ruling was given by NGT bench headed by Chairperson Justice Swatanter Kumar and also questioned Delhi government's odd-even formula for vehicles to check pollution in the city.
RENOWNED AGRO-ECONOMIST SHARAD JOSHI PASSES AWAY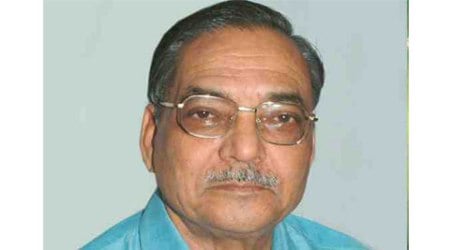 DAILY GK UPDATED
Renowned agro-economist and veteran leader of farmers Sharad Anantrao Joshi passed away in Pune, Maharashtra. He was 81. He was founder of Shetakari Sanghtana (farmers' Organisation) an NGO dedicated to the cause of farmers in Maharashtra.
Sharad Joshi was born in 1935 in Satara district of Maharashtra. Prior to establishing Shetakari Sanghtana in 1979 he had worked with Pune University as lecturer of Economics and Statistics and later worked with United Nations (UN).
DILIP KUMAR GETS PADMA VIBHUSHAN AWARD
DAILY GK UPDATED 13-12-2015
Legendary actor Dilip Kumar was today presented the Padma Vibhushan by Union Home Minister Rajnath Singh at the thespian's residence in suburban Bandra.Maharashtra Governor C Vidyasagar Rao, Chief Minister Devendra Fadnavis, were among other dignitaries present at the actor's home when he received the award.
The announcement to honour Bollywood veterans Kumar, Amitabh Bachchan and a few others with the prestigious Padma Vibhushan award was made by the government on the eve of Republic Day on January 25, 2015.
UNION GOVT INKS MOU FOR ESTABLISHING IIITS AT RANCHI, NAGPUR & PUNE
The Union Government has inked a Memorandum of Understanding (MoU) for establishing three Indian Institute of Information Technology (IIITs) in the country. The agreement to this effect was signed between Department of Higher Education (DoHE) and private agencies including Tata Consultancy Services (TCS), Tata Motors, ADCC Infocad and Hubtown.
Union Government Slaps Anti-Dumping Duty On Stainless Steel
DAILY GK UPDATED 13-12-2015
Union Government has imposed anti-dumping duty on import of cold-rolled flat products of stainless steel for 5 years from 7 countries.The Directorate General of Anti-dumping and Allied Duties has recommended government about the rising incidence of dumping.The exports of steel from other countries is effecting the performance of domestic industry and with steel prices on a decline.The 7 countries are China, South Korea, United States, South Africa, Thailand and Taiwan and the European Union.
DAILY GK UPDATED 13-12-2015
Reviewed by
mani
on
20:11:00
Rating: